Chicago and Chicagoland area residents dealing with a drafty fireplace can count on the pros at Capital Chimney Corp for reliable solutions at affordable prices. Getting a cozy fire going on a cold Chicago winter day can warm your spirit as well as your house.
Don't let chimney drafts get you down. Our sweeps can take care of your draft problems and get your traditional, electric, or gas fireplace ready to go.
What Causes Drafty Fireplaces?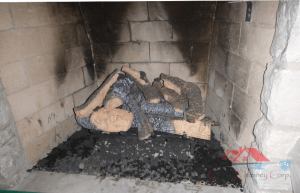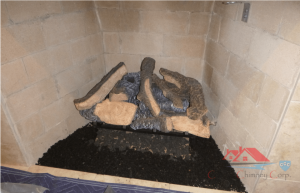 To accurately diagnose what is causing your cold drafts, we always recommend having a thorough fireplace inspection performed by our Chicago area professionals. There are some issues we frequently see that can create drafts.
Chimneys Of Improper Size Or Height
Inadequate Air Flow
Blocked Chimneys
Flue Temperature
Leaks
Why Size Matters When It Comes To Chimneys
The National Fire Protection Association (NFPA) has published guidelines for chimney heights. These suggested heights are considered the absolute minimum. You may have a chimney that would benefit from a little added height.
Believe it or not, your chimney can also be too tall. Or, the diameter of your flue may be too small or too large for optimal fireplace system performance.
Proper Air Flow Is Important
If your home is sealed up too tightly or you frequently use exhaust fans that remove air from the house, then you may not have adequate airflow for your flue and fireplace to operate correctly. Airflow can also become impeded if there is a blockage somewhere.
Common sources of obstruction are:
Creosote Buildup
Dampers Not Fully Opened
Damaged Masonry
Birds' Nests
Dead Animals
Toys (Balls, Frisbees, Etc.)
Creosote can also build-up far more quickly when "green wood" is burned. It is recommended that you only use well-seasoned wood. The NFPA recommends having your chimney and fireplace cleaned and inspected at least once annually.
Cold Flues Can Result In Fireplaces Problems
The temperature of your flue can cause cold drafts. This is an issue that is frequently seen with exterior masonry chimneys. Because of their location, the air inside the flue can lose a significant amount of its heat. As the air in your flue cools, it begins to sink rather than rise, causing fireplaces to become drafty and lose efficiency.
Leaky Chimneys & Cold Drafts
If your chimney has developed a leak, it will be unable to perform optimally. For this reason, it is vital to have your fireplace system inspected annually and have any needed maintenance and repairs performed promptly by an experienced, professional chimney sweep.
Let Us Fix That Drafty Fireplace
Capital Chimney Corp offers high-quality fireplace services in the Chicago, IL area. Our professional sweeps have over 75 years of combined experience. We have the skills and knowledge to handle all aspects of your traditional, gas, and electric fireplace repairs, maintenance, upgrades, and replacements.
Call today to schedule your next service or inspections.