Chimneys are an important part of your house, and it is recommended that yearly inspection, cleaning, and repairs should be carried out as necessary. Traditional open fireplaces need to be maintained and cleaned on a consistent basis as well. Many homeowners aren't aware of the chimney's interior. When ill-maintained, it can decay and break down.
When you choose to do a bit of chimney sweep work yourself, you need to be aware of the potential chemicals and creosote buildup you are being exposed to. Professionals use many safety measures to protect themselves and to keep the air in your home free from chimney dust.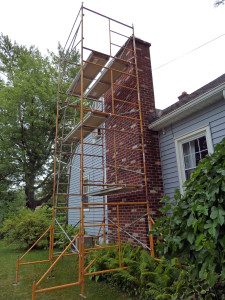 Chimney Repair Services
Chimney repair work can range from simple maintenance services to complete remodeling or rebuilding. Simple repairs are where the chimney might have to be cleaned, or small missing pieces need to be replaced/patched up. This can be done by most who have any amount of experience with chimney work. Most homeowners may be accustomed to tackling issues on their own.
However, if one is new to such problems, they should definitely call in an expert. Remodeling, on the other hand, requires that the homeowner calls in the repair contractors to have a look at the chimney and estimate the damage and the cost of the repairs. When the owner is ready to have the repairs conducted according to the contractor's estimate, they can go ahead and hire them. There is a marked difference in time and money spent on both such kinds of work.
Finding The Right Chimney Expert
A chimney at your home can easily become the home of some unwanted guests- like raccoons, wood ducks, and squirrels. For this reason, it is better to keep a stainless steel rain cover at the top of your chimney to keep it protected from these unwanted guests. There are some ways one can go about looking for chimney repair experts.
The simplest way is to look through the websites that come up in an internet search. This search can be targeted to show local chimney repair companies. From this list, a homeowner can go about selecting those companies that they find suitable for their needs.
Also, not every contractor is ready to take up minor repairs, and not all are specialized enough to take up more significant projects. From their portfolio and the services listed, the client can easily find what each company offers. Ensure that the expert you are going to select has proper credentials to perform such duties and review the certificates he has as a testimony to such credits.