At Capital Chimney Corp, we can help you with Chicago area furnace vent cleanings, year after year. Did you know that every vented heating system in your home should be inspected and cleaned annually for maximum safety? That means you need a reliable chimney sweep for more than just fireplace flues.
Common Heating Appliances That Require Ventilation
Every appliance that helps to heat your home and gets vented needs to be inspected and cleaned regularly to guarantee it is safely operating. These venting systems need to be cleared of all debris.  Some of these include:
Gas Furnaces
Oil Furnaces
Gas Boilers
Furnaces, Water Heaters & Boilers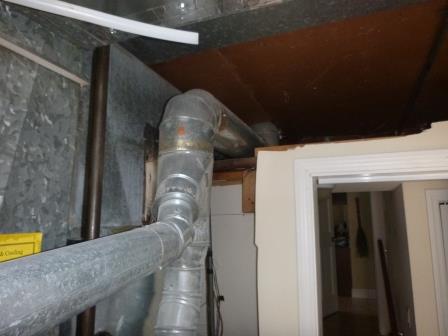 Just like fireplace systems, many wood-burning stoves, water heaters, boilers, and furnaces produce moisture and toxic, combustible byproducts that need to be carried up and out of your home. This combination of water and fumes travel through flues that need to be cleaned and maintained to perform their duties correctly.
Neglected furnace maintenance can cause a host of issues.
Wall, Ceiling & Structural Damages
Carbon Monoxide Leaks
Rusty Looking Gas Scale
White Chimney Mineral Deposits
Liner Debris & Pest Blockages (Nests & Waste)
Furnace Flue Corrosion
Acidic Sulfur Deposits
Condensation Problems
Drafts & Backblowing
Appliance & Flue Mismatches
Soot Buildup
Water & Gas Don't Mix
When moisture and chemicals mix, they create dangerous carbon monoxide. When you experience a flue blockage in your gas appliance, this deadly substance is spread all over your house where it cannot be seen or detected without the proper equipment in place. Only a certified chimney sweep can spot the signs of trouble before they become an irreversible tragedy.
Other Water Damages
The condensation inside of gas furnaces is very acidic. The longer it sits in your ventilation system, the more chance it has to degrade the lining and cause structural problems. Damaged caps, crowns, and masonry can also let water in from the outside to affect your heating systems efficiency and cause damage to surrounding walls.
An annual inspection and cleaning appointment can help you avoid these costly problems.
More Than "Just" A Blockage
When you think of a furnace chimney cleaning, your first inclination might be to imagine birds, raccoons, and squirrels that have built nests up there in the warmer months. Or, maybe a little buildup of soot that needs to be taken care of.
A furnace flue can also become blocked by things like brick, clay or tile that have fallen off of the chimney or liner. Damaged liners aren't capable of thoroughly filtering the things you want out of your home out and, instead, can keep things like carbon monoxide and moisture in.
What Does the Process Entail?
Most furnaces and hot water heaters should be inspected annually. The process of cleaning a furnace flue is comparable to cleaning a fireplace flue, and is just as important. The certified technicians at Capital Chimney Corp. clean all types of furnace and heating appliance venting systems. The cleaning removes sulfur deposits, which are acidic, from the walls of the flue and also assures the flue (or liner) is capable of containing the heat and toxic (CO) products of combustion.
More Advantages Of A Yearly Inspection
Let our certified chimney sweeps inspect your boiler flue, water heater flue or furnace chimney flue annually to catch needed repairs early and protect your family and your property. Furnace flue cleaning keeps appliances running smoothly and safely.
Having a trained eye on your ventilation system can also help you avoid costly property cleaning issues and make sure any new systems you set up correspond to vents of the right material and size.
Your Reliable Source For Furnace Cleaning In Chicago
Why wait for injury, accident, or damages to occur when preventative maintenance is just a phone call away? Contact us at Capital Chimney Corp today to schedule your next furnace vent cleaning and inspection for your Chicago area property. We look forward to serving you.