Capital Chimney Corp offers Chicago area properties chimney repairs, restoration, and rebuilds. Having timely inspections and repairs performed on your chimney can save you from prematurely requiring a complete chimney rebuild.
In the situation where the damage to your chimney is so substantial that repairs will not be enough, we can also perform a partial or complete chimney rebuild. When working with Capital Chimney Corp, you can rest assured that a licensed and certified chimney technician is working on your home.
Hazards That Cause A Chimney Deterioration
Capital Chimney can thoroughly inspect your system to determine the proper course of corrective action for your chimney, saving you time and money on ineffective troubleshooting and fixes. There are many signs that you might need more than simple maintenance or chimney repairs.
Cracked Or Deteriorated Crown
Leaning Chimney
Missing Brick
Storm Or Fire Damage
Leaking Chimneys
Efflorescence Or Other Staining
Rotted Wood
What Creates Chimney Damage
Sun, snow, wind, rain, fire, lighting, heat, and repeated freeze / thaw cycles cause wear and tear on your home. Many chimney restoration projects stem from moisture. Water outside and corrosive vapors on the inside can weaken and break down mortar and other structural strongholds like wood or brick over time. This creates the framework of the brick to degrade, which causes a safety concern for the chimney and your home.
Proven Chimney Restoration Techniques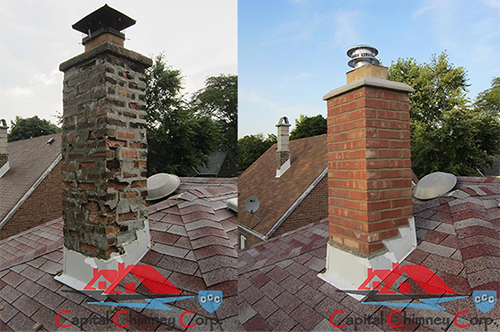 We understand that restoration efforts are necessary due to age, accidents, or neglect. We have been performing all manner of chimney restorations, big and small, throughout Chicago and the surrounding suburbs for over two decades. Whether it's sealing, tuckpointing, brick replacement, or water damage restoration, leave the repairs to us. When more extensive restoration is needed, we can also help with all forms of chimney rebuilds.
Partial Chimney Rebuilds
Not every damaged chimney needs to be rebuilt entirely. In most cases, the most exposed portion of the chimney structure will begin deteriorating first. If caught at this stage, only the topmost part of the chimney will need repairs. Don't delay in calling us at the first signs of damage, as this could save you time and money in the future.
What Requires A Full Chimney Rebuild?
If extensive brickwork damage is present or the damage extends down to the chimney foundation, a complete rebuild is required. This service consists of demolishing the outer layer of brick on a chimney system and adding a new crown. The firebox, smoke chamber, and hearth do not typically have to be replaced with a complete rebuild. Capital Chimney will diagnose if the fireplace or flue will need replacement at this time.
How Chimney Restoration & Rebuild Works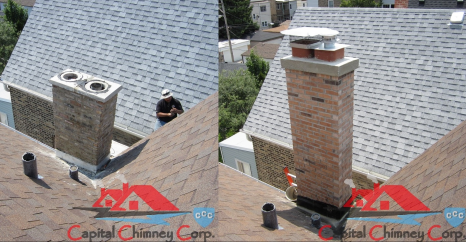 Every rebuild is unique, but we understand that you might be curious about what the chimney restoration or rebuild entails. Chimney rebuilds with Capital Chimney Corp. typically include:
Setting up of scaffolding and other equipment.
Removing and discarding the deteriorated brickwork.
Rebuilding the chimney as agreed, using the closest matching bricks available.
Ensuring that the new chimney meets all of the current codes.
The Best Time For Maintenance & Repairs
Regular inspection and sweep services keep all parts of your chimney in efficient working order for extended periods. We help you catch problems early and perform lasting fixes to extend the life of your masonry, liner, firebox, cap, crown, and more.
Due to the weather we experience in the Chicago area, we have limited time to complete repairs like these. However, Capital Chimney has trucks in your area year-round and can diagnose potential repairs no matter the weather. Don't hesitate to call our chimney company for all your fireplace and chimney needs.
We Are Licensed & Certified
Please note that fireplace repair and/or rebuilds must be done by a licensed and certified chimney technician or mason. There are many codes involved in building a safe and properly functioning fireplace and chimney that regular masons (bricklayers) are unaware of.
Your Neighborhood New Chimney Professionals
When you need chimney restoration or rebuilds, you want it done right the first time. At Capital Chimney Corp, we are your reliable, go-to chimney guys in the Chicago area. Call us to schedule an inspection with one of our certified technicians today.