Protect your Chicago area property and its occupants with professional chimney liner repair or replacement by Capital Chimney Corp. If your chimney flue liner is damaged, it can create health risks, increased fire risks, and damage to your property the longer it goes unaddressed.
What Are Chimney Flue Liners?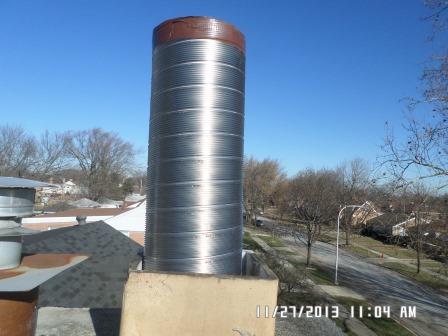 A chimney liner, or flue liner, basically forms a barrier between what's coming out of your firebox, furnace or stove and the actual structural components of this passageway. This lining can be made of fire-clay flue tile, stainless steel, or aluminum, depending on the type of system it's venting.
Barrier Against Fire Byproducts
The inner layer runs through the inside of a chimney and contains all the products of combustion until they exit the home. It must be maintained, or smoke, heat, and carbon monoxide (CO) will enter the airspace of your chimney and walls, causing serious safety concerns, including carbon monoxide poisoning and fire beyond the designated fire walls.
Keep Your Home Safe
Chimney flue liners protect the home from heat transferring through to combustibles. They are supposed to help the heat rise through the chimney rather than anywhere else. Inadequately lined chimneys allow gases and heat to pass into walls and living spaces, potential causes of extensive property damage and fires.
Increase The Life Of Your Chimney
Flue liners keep the masonry safe from the corrosive and humid byproducts of combustion. When the gasses aren't venting correctly, they cool and condense into acidic water, which will eat away at the mortar joints from the inside of the chimney out. As the joints disintegrate, heat transfers quickly to the nearby combustibles, and dangerous gasses, such as CO, can leak into various areas of the house.
Maximize Your Efficiency
Lining your chimney correctly provides the right size flue for maximum efficiency of appliances. Today's wood stoves, and gas or oil furnaces, require a correctly sized flue to function properly. An improperly sized flue can lead to substantial creosote buildup in fireplaces and wood-burning stoves and produce crippling amounts of structural damage due to condensation with natural gas appliances.
Protect You & Your Property
Chimney liner repair or replacement can be what stands between you and a host of problems. When installed properly, inspected regularly, and kept in good condition, this channel performs several duties.
Ventilates Dangerous & Combustible Chemicals Out
Protects Your Property From Heat & Fire Damage
Protects The Outer Structure Of The Chimney
Ensures Appliance Efficiency
Protects Natural Gas Appliances From Excess Moisture
Discourages Creosote Buildup In Fireplaces & Wood Burning Stoves
Helps You Meet Fire Safety Codes
Key Component Of Fireplace Safety
Nobody wants to breathe smoke or deadly carbon monoxide fumes. A damaged chimney lining can invite these dangerous and combustible vapors into your attics, walls, and ceilings instead of containing them safely until they exit the building. This puts you in danger and increases your likelihood of a house fire.
Signs You Have Flue Liner Damage
Since the lining is on the inside, it can be hard for anyone besides a certified technician to find and correctly diagnose a problem. Drafts, smoke, unpleasant smells, and visible outer structure deterioration can all be signs of needed flue repairs.
Common Chimney Problems
The source of most chimney liner damage is the corrosive, acidic vapor leaving your heating appliances. Over time, wear and tear are expected. With twenty years under our belts, we know the best approaches to many of your most common damages.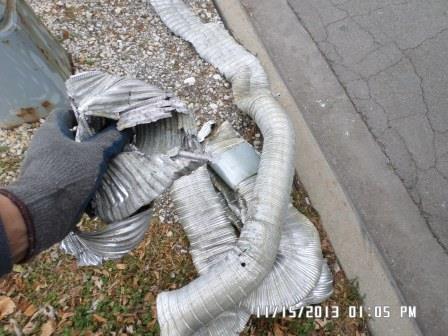 Crumbly Or Worn Away Clay Mortar
Clay Flaking Or Spalling (Falling Off)
Gapped/Cracked Flue Tiles
Joint Corrosion
Shifting Tiles
Holes Or Cracks
Blockages
Regular Maintenance Is Key
Your chimney liner should be inspected once every year with an annual 14-point safety inspection. This service will inform you of damage, cracking, masonry concerns, shifting in flue tiles, joint corrosion, and/or partial or total blockages. Regular chimney inspections and preventative maintenance can save you money on potential larger repairs like chimney relining, structural repairs, and new chimney rebuilds in the long run.
Options For Liner Repair Or Replacement
There are a number of different options if your chimney needs a new liner or repair. The sweeps at Capital Chimney will help guide you in selecting the best option:
Stainless Steel Flue Liner
A heavy gauge 316ti stainless steel pipe that is designed to be 100% gas-tight and impervious to heat, moisture, and acids found in exhaust byproducts. This liner can be used in all fireplace and heating flue applications. There is a lifetime warranty with all stainless steel liner installs.
Heat Shield Liner
Capital Chimney Corp. uses Heat Shield to repair existing and damaged clay flue systems. It's a blend of specially chosen high-temperature ceramic refractories that can repair a majority of common clay flue damage. There is a lifetime warranty with all Heat Shield repair applications.
Aluminum Flue Liner
A 2-ply 3003 aluminum pipe that is designed to vent the byproducts of gas heating appliances. This is an excellent and cost-effective option to vent standard-efficiency furnaces and water heaters. There is a 25-year warranty with all-aluminum liner installs.
Schedule Chimney Liner Repair Today
At Capital Chimney Corp, we are the reliable choice for chimney liner repair, installation, or replacement in the Chicago metro area. Don't hesitate to call us today for an inspection appointment with a certified professional.