When it's time to install, replace, or repair your chimney chase cover, you can count on Capital Chimney Corp in Chicago, Illinois. We are experts in all aspects of chimney inspection, building, and maintenance. We are also local, so we are aware of the unique needs and challenges of our Chicagoland customers.
What Are Chase Covers?
Chimney chase covers are located at the top of chimnies and are made of metal and serve to keep unwanted elements out while still affectively allowing smoke and dangerous chemicals to vent away from your home, fireplace, and flue.
Chimney Caps Vs. Chase Covers
Chimney caps and chase covers may not seem very different at a glance. Both essential components work in similar ways to perform the same task. Caps are installed on masonry chimnies. Chase covers usually protect prefabricated chimnies.
The Benefits Of Chimney Covers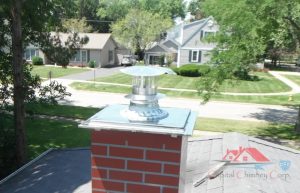 Your home is exposed to many hazards every day. Heat, UV damage, rain, snow, freeze-thaw cycles, wind-blown branches, rocks, and animals, to name a few. Chase covers protect prefabricated chimnies from many forms of damage and deterioration.
Keeps Pests Out – Animals, Nests, Waste, Decay
Prevents Rust Stains & Streaks
Prevents Water-Pooling & Damage
Helps Prevent Mold
Keeps Leaves, Sticks & Other Debris Out
Protects Wood Framing & Firebox
Signs You Need Repair Or Replacement
Depending on the source, chase cover damage may not be noticeable at first or to the inexperienced eye. We recommend a chase cover inspection yearly to ensure this component is still sound, stable, and performing optimally. If you notice any of the following, have your chase cover checked as soon as possible.
Rust Streaks Or Stains
Animals In Your Flue
Leaves In Your Flue
Bad Smells – Possible Pest Problems, Mold Or Chemical Back Drafts
The Cover Is Sinking Or Looks Bowed
You Notice Cracks Or Holes
You See Pooling Water On The Cover
Professional Installation
Because extensive and expensive problems can result from neglected chase cover damages, repair or replacement should happen quickly and as soon as possible. Installation is not a DIY project. You should always make sure your covers are installed professionally by an experienced chimney specialist, like Capital Chimney Corp, for maximum efficiency and protection.
Available Materials
Most chimney chase covers are made from a selection of materials that vary in strength and longevity. Your choice of metal can mean years in additional savings and protection. Our installation technicians recommend stainless steel for most applications.
Stainless Steel – Strong, great-looking, and warrantied for life.
Galvanized Steel – Affordable. More likely to rust. Replaced more often.
Aluminum – Rust-proof, but soft. Not as hardy as other options.
Copper – High-quality and expensive, but beautiful.
Painted Steel
Our Chimney Chase Covers
When you count on us for chimney chase cover replacement or installation, you are investing in quality. All of our covers are constructed with cross breaks and a drip edge to facilitate water flow away from your flue. Each installation also includes new collars and storm collars sealed with NPC terpolymer sealant as extra protection against leaks.
Schedule Your Chase Cover Inspection Today
Protect your chimney, and ultimately your Chicago area home, from expensive repairs. Call us at Capital Chimney Corp to schedule the installation of a stainless steel chase cover today. We are your Chicagoland resource for professional, reliable workmanship with the highest-quality customer service. We look forward to serving you.