Protect the aesthetic, safety, and life of your chimney with brick and mortar repair or replacement from Capital Chimney Corp, your Chicago area professionals. Don't ignore the little fixes today only to experience big, expensive problems down the road. We're here to help you make sure your fireplace can continue to vent efficiently and safely for years to come.
Common Brick & Mortar Chimney Repairs
Wind, water, storms, heat, and sun exposure can all have deteriorating effects on your home. You want the system that ventilates fire, fumes, and smoke out of your house working well for a long time. So, don't put these simple repairs off. We can help you with all types of common brick chimney repair and replacement services.
Crumbling Mortar Removal
New Mortar Color Matching & Application
Replacing Cracked or Spalled Bricks
Fire & Weather Damage Restoration
Chimney Leak Repairs
Full Chimney Rebuilds
Waterproofing Services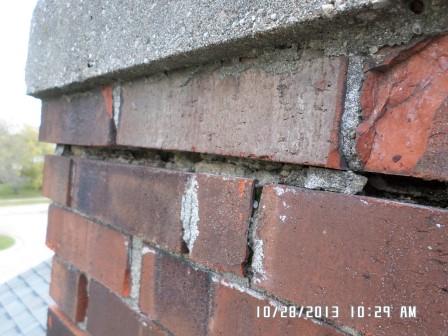 What Is Tuckpointing?
Tuckpointing, repointing, or pointing is a masonry repair sevice that involves removing old, damaged mortar and professionally applying new mortar between the bricks. With this service you are repairing the mortar with a tested, proven, centuries-old, masonry technique. Some benefits of this kind of brick & mortar repair include:
Prevents further deterioration and cracking of the mortar joints.
Preserves the life of your chimney.
Allows restoration of the chimneys structural integrity (if you do not repair the mortar joints, the chimney will eventually begin to lean and collapse).
Solid mortar joints will help prevent water and moisture from entering into the chimney system.
Repairing mortar joints is far more affordable than a complete rebuild.
The value of the home is improved when the masonry is in good condition.
The aesthetics of a properly repointed chimney are dramatically improved.
Why You Should Tuckpoint Your Chimney
Typically, bricks on a chimney will last around a century. However, the mortar of these bricks has a much shorter lifespan. Depending on the amount of exposure to hazards such as water, heat, and severe element exposure the masonry will usually last about 20 years. Tuckpointing basically removes damaged mortar and replaces it with fresh mortar. Mortar joint repair involves the following:
Grinding Or Removing Old Mortar To Uniform Depth
Cleaning Joints Of Dust & Debris
Pointing Joints Between Bricks With Fresh Mortar
Special Attention To Match Mortar Style, Color & Texture
Properly Tool & Brush Fresh Mortar
Brick & Site Cleanup
Save Money With Masonry Repair Or Replacement
When you rely on our chimney tuckpointing services, mortar removal, application, and tooling are done right the first time and every time. You will prevent further damage from occurring and extend the life of your chimney affordably.
Keeping Water, Bugs, & The Cold Out
By keeping your chimney masonry in good shape, you keep insects, water, and those chilly winter drafts out. Crumbling mortar and spalled or missing brick are more than just an eyesore. They leave space for water and the elements to seep in and cause even more damage to your chimney.
Protect Your Home's Value
Would you buy a home with a leaning or damaged chimney? No one wants to invest in a property that looks neglected. Give your chimney the structural support it needs and the facelift buyers will love with professionally applied mortar restoration and brickwork repairs.
Schedule Your Chicago Area Tuckpointing Service
At Capital Chimney Corp, we know all the ins and outs of brick and mortar chimneys just like yours. We've been serving you throughout the Chicago area for over two decades. You can count on our chimney brick & mortar Repair repairs to be of the highest quality. Call us to make your repair appointment today.